This weekend my husband and I embarked on our alternative Christmas tree adventure. The thought of having a fake tree bothers me, and the thought of cutting a tree down bothers my husband. Our compromise last year almost ended in the death of a beloved house plant (you may remember my
post
about it). So this year we settled on recreating the pine cone tree from
country living
. Their directions are rather vague, so if you decide to try this at home, here are some more details:
Supplies for a 2.5 foot tree
cone shaped foam base
wire
wire cutters (+ pliers and gloves optional)
wooden floral pics
sheet moss
appx 70 cones of varying sizes**
pot or decorative stand
**We purchased our pine cones from Michaels, but a friend told me that you can also find them at Wild Oats. You could also use a florist. If you gather the cones yourself, be sure to bake them in the oven before using them. And please be careful: I would hate for you to poke an eye out with a piece of wire flying throught the air. Just be warned.
Directions
Start out with the largest pine cones and wrap a five inch wire tightly around the lower spokes (being careful not to break or damage them) leaving a few inches of wire with which to anchor the cone into the foam base. (I would suggest wearing gloves because my husband has all sorts of little cuts on his hand from this step). Insert the cones into the foam at an angle and repeat this process working around and up the foam base using progressively smaller and smaller pine cones. For the smaller cones, I was able to use wooden floral pics, but you could conceivably use wire the whole time. Last but not least, stick sheet moss in between any gaps in the cones so that the white foam base does not show through. Decorate as desired.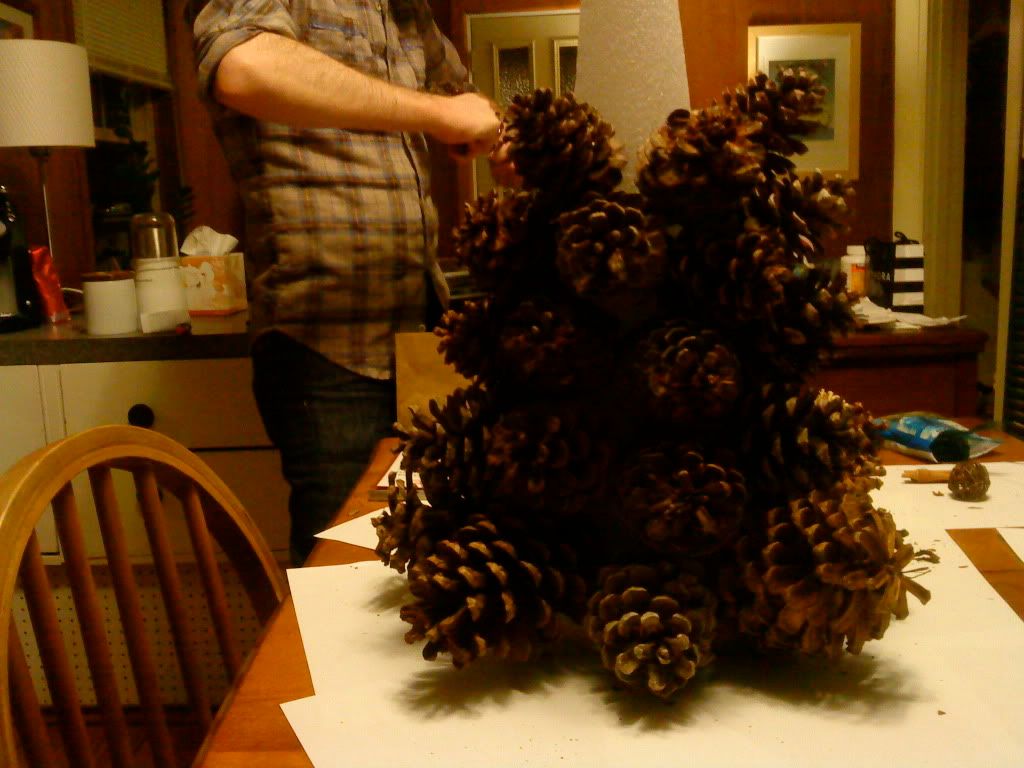 Now we have a great-smelling, festive tree to get us in the holiday spirit. I bought some twinkle lights as per
The Owl's Closet
's suggestion, but we bought the wrong size batteries so I don't have a picture of it yet.
What kind of decorations are you using this year? Any recommendations for holiday crafts?